Looking for non-toxic nail polish brands? Read on to learn about the history of nail polish, the toxic ingredients to look out for in conventional nail polish brands, and the non-toxic brands we recommend.
Nail polish made its way to today through people held high socially, but now nail polish is accessible and everywhere. Which is why we're here to help you not only sort through the umpteen thousands of brands, but ultimately to find some great non-toxic nail polish brands that you can feel safe using.
This post may contain affiliate links, which means we may earn a small commission if you choose to make a purchase. We only make recommendations that are genuine and meet our ingredient/material safety standards.
The BIG 10 Toxic Nail Polish Ingredients to Avoid
The first polishes used contained ingredients like beeswax, gum arabic, egg whites, and plant pigments. But, manicure artists sought formulas to create high-gloss, smooth, glassy, bright, and durable polish to mimic automobiles. Hello, Industrial Revolution. It didn't take long for nail polish to contain ingredients that are hard on our health. These include three primary toxic chemicals: toluene, dibutyl phthalate (DBP), and formaldehyde.
There's no reason to inhale these chemicals and put them on your body to make your nails look pretty, so below is a list of the "BIG 10" toxic ingredients, including what they're used for and their faults. (Whenever you see nail polish brands market themselves as "10-Free," these are the ten ingredients they're talking about.)
Toluene: a solvent that thins the polish, BUT can cause neurological damage, impaired breathing, hearing loss, brain dysfunction, and possible birth defects in pregnancies.
Dibutyl phthalate (DBP): used for durability and shine, BUT as an endocrine disruptor, can damage the liver, kidney, and reproductive system.
Camphor: does naturally come from a camphor tree, BUT can trigger allergic reactions, dizziness, headache, nausea, and liver dysfunction.
Xylene: used to maintain liquid consistency, BUT can cause a range of symptoms from headaches and dizziness to respiratory issues, kidney problems, and gastrointestinal toxicity.
Formaldehyde: used as both a preservative against bacteria and an agent for strengthening and hardness, BUT can cause allergic reactions, asthma, nausea, and even miscarriages.
Formaldehyde Resin: adds depth, shine, and hardness to the nail polish, BUT can cause skin allergies, dermatitis, and possible reproductive issues leading to miscarriage.
Triphenyl Phosphate (TPHP): used to improve flexibility and durability, BUT can cause endocrine toxicity and irregularities in developmental and reproductive systems.
Colophonium: does naturally come from pine and spruce trees and is used as the glue, BUT can cause strong allergic reactions, dermatitis, and breathing issues.
Organic halides: used as thinners (why are there so many thinners?!) and consist of various substances like bromine, iodine, fluorine, and chlorine, BUT they cause various serious disorders, including nerve damage.
Silicone (dimethicone): used to speed up drying, BUT can cause lots of allergic reactions and is non-biodegradable.
With so many great non-toxic nail polish brands out there, there's no reason to expose yourself to these potentially toxic chemicals. Below are our recommendations for a safe mani/pedi.
P.S. Here's a full article on non-toxic nail polish remover!
9 Non-Toxic Nail Polish Brands for a Clean Manicure
With self-care and wellness at the center, sundays is a salon in NYC that sells a decent range of signature products (including 9-free soy polish remover!). Their long-lasting, gorgeous, and timeless polish colors come in well-designed bottles for flawless application. By offering candles, affirmation and meditation merchandise, and nail care, sundays really covers the gammat of a manicure experience—even if at home.
Vegan, 10-free.
---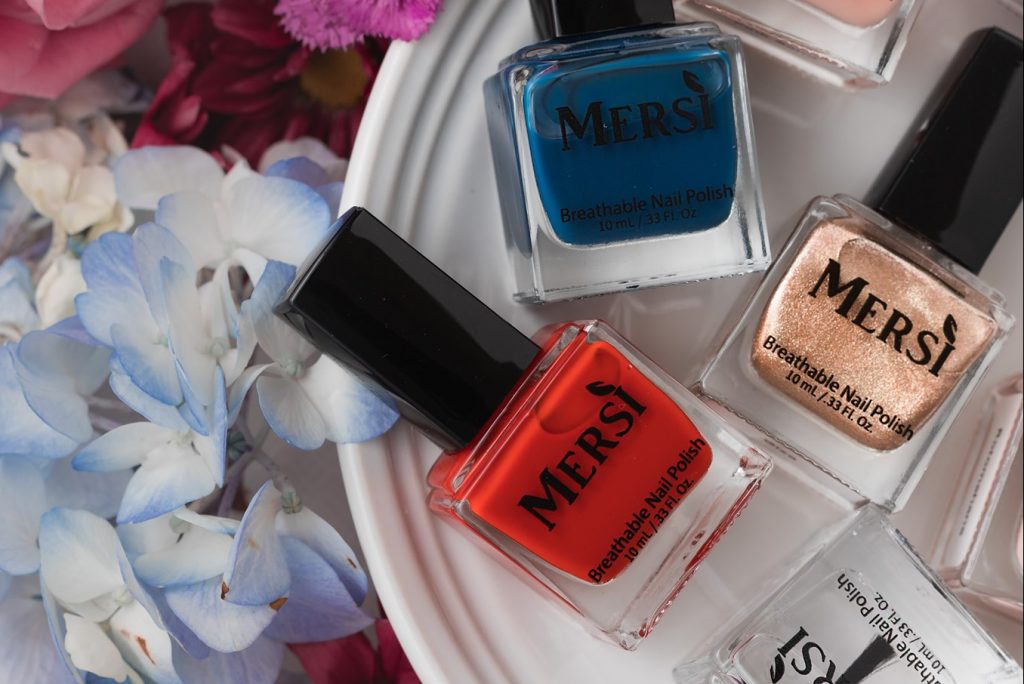 Mersi is incredibly unique—it is Halal and Wudu friendly. Halal means the ingredients are in accordance to Islamic law. The two big factors that make their products Halal is that they use zero animal by-products and the polish is water permeable (a.k.a. breathable). During the prayer practices Ablution/Wudu, the nails must be touched by the water.
Outside of adhering to Islamic Law, being water and oxygen permeable does a great benefit to nails by allowing them to stay hydrated. With high standards and multiple certifications, Mersi offers nail polish, "mission sets" that support cultural movements, customizable sets, and nail nutrition.
Vegan, Halal, 11-free.
---
When the founder's mother, Jacquelyn Marie LaPierre, was diagnosed with lung cancer, her daughter didn't want to give up her fond memories they shared over manicures, so she created LaPierre as a safe formula. And importantly, they don't skimp on the bright statement colors and electric descriptions! Neons!
Vegan, 10-free.
---
D.I.D. (as in, get your nails DID) nail paint collection focuses on high-pigment, eco-friendly polishes that complements your skin tone. Their mission honors your nails as a canvas, powering your hands to create the life you want. Check out their metallics!
'The Remover' is soy-based, non-acetone, non-ethyl lactate, non-petroleum.
Vegan, 5-free (formaldehyde, formaldehyde resin, toluene, dibutyl phthalate, and camphor).
---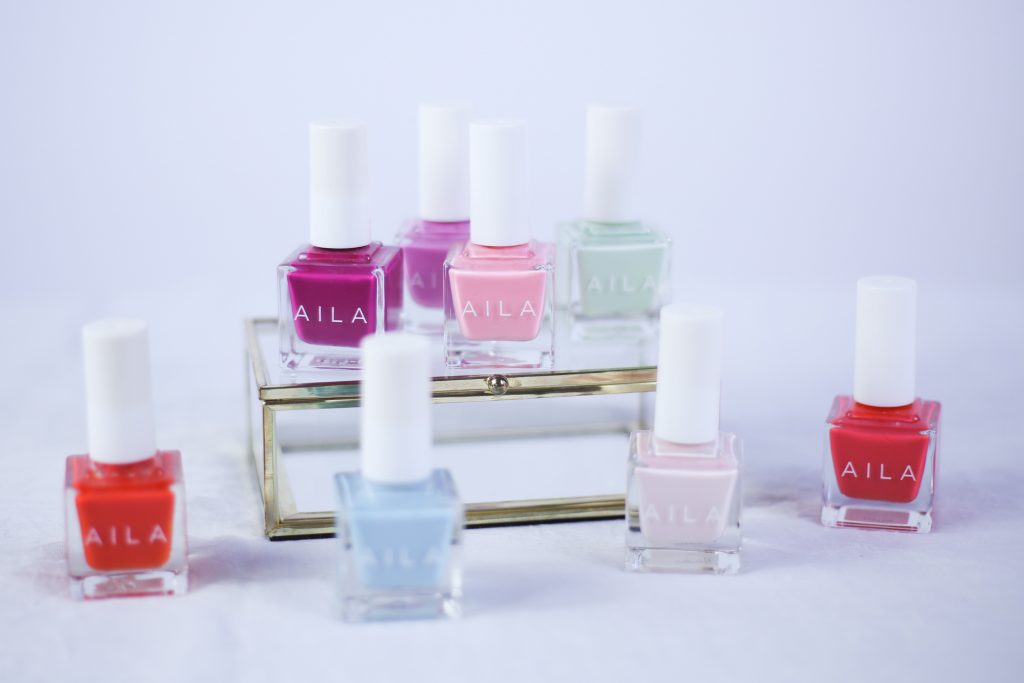 Squeaky clean! AILA goes above and beyond with transparency and educational material about the non-toxic realm of both the nail polish industry and AILA products. The founder of AILA is a medical professional, cancer survivor, mother, and health seeker. These experiences naturally translate into what AILA brings to the clean beauty movement: transformation.
Not only do their products refrain from toxic chemicals, but they are infused with healthful ones. Take their PRIME Base Coat secret ingredient for example: garlic(!). As a brilliant ingredient, the garlic strengthens the nail and protects it from fungus through its high levels of allicin, sulphur, zinc, calcium, and selenium. In addition to nail polishes, AILA offers a super full line of 'essentials,' including their plant-based polish remover. Enhanced with argan oil, it nourishes to prevent more bacteria, toxins, and inflammatories.
Each (gorgeous) chip-resistant color comes with its own story that pays homage to a sweet memory bound to enhance your days living in AILA's (super clean) colors.
Vegan, Gluten-Free, 15-free.
---
Rooted Woman embodies revolution. A revolution to shift 'self-care' away from 'selfish,' to make self-care accessible, and educate with self-care online courses. Because their products are made in hand-poured small batches, colors may have slight variations—which, we believe adds to the radical authenticity that Rooted Woman brings to the clean beauty industry. However, they spare no depth in color. Rich colors range from bold, bright, metallic, and nudes.
Their plant-based, non-toxic nail polish remover benefits the nail and is readily biodegradable with no fumes and water washable. Rooted Woman is Black Woman Founded and Owned; CEO, India Williams, is loud and clear about their commitment to provide jobs and opportunities for women. Their nail products become more of a vehicle for connection, hand-in-hand.
Vegan, Gluten-Free, 10-free.
---
Habit creator, Aja Frierson, is a lifelong maker. Her resourceful iterations of upcycled fashion statements eventually led to Habit, a line providing a clean formula, sustainable packaging that is meant to stay out of the cabinet, and on-trend colors. These polishes are infused with myrrh extract to improve nail strength. We may or may not be eyeing "Creature of the Night" 'a spellbinding deep purple with electric blue shimmer. Elvira inspired, this shade is not for the faint of heart.' In addition to nail polish, Habit offers organic facial color, too!
Vegan, Gluten-Free, FSC-certified Packaging, 9-free.
---
LVX is industry-leading and more widely noticed by high-end designers and Fashion Week presentations, which gives them a larger platform to tell the clean beauty narrative. With almost 50 runway-driven colors and three different finishes, LVX tells the stories of emerging trends, designers, and artists. If you're really trying to get away from gel manicures, LVX lacquers are 'gel-like' and might be a good transition product. They also offer polish remover in the form of all-natural wipes, and a lush Green Tea Nail oil for nail treats!
Vegan, 10-free.