There are several great non-toxic, direct-to-consumer mascara brands available these days that you can order online, but sometimes you just need to grab something while you're out at the drugstore or grocery. But a lot of the conventional and widely-available cosmetics contain ingredients that are known to cause health problems. So while you're looking at a wall of Maybelline, Revlon, and CoverGirl, you may wonder: are any of these mascaras actually safe to use?!
The good news is: yes! There are a few brands of non-toxic mascara that can be found in many drugstores, grocery stores, and big box stores like Walmart and Target. So in this article, we're going to talk about:
the most toxic ingredients to look out for
the *okay* ingredients that are common even in the more natural brands of mascara
the drugstore mascara brands we recommend
the drugstore mascara brands we *kind of* recommend
the best non-toxic, natural mascara brands available online
the best non-toxic and natural makeup removers
This article contains affiliate links, which means we may earn a small commission if you choose to make a purchase.
Is Conventional Drugstore Mascara Toxic?
In short: yes, probably. Although there are some drugstore mascara brands that are (mostly) free from toxic ingredients, a lot of conventional mascaras contain problematic ingredients that are linked to serious health concerns, from allergies to cancer.
The problem is that it's almost impossible to tell by looking at them which kinds of mascara are safe and which ones are toxic (which is why we've done the investigating for you!). Keep reading to find out which common mascara ingredients are the most toxic.
How Can Mascara Irritate The Eyes?
Since mascara is applied so close to your actual eyeball, you're almost guaranteed to get minuscule amounts of it into your eyes. When mascara comes into contact with the fluids in your eyes, it can potentially cause irritation as the different proteins react to certain foreign materials. Some people may have reactions to specific ingredients in mascara (the same way people are allergic to different things), while other ingredients may be more universally irritating. Here are some of the common irritants found in conventional mascara:
Parabens (more on these below)
Gluten (yes! Gluten is a common hidden ingredient in cosmetics and personal care products)
Preservatives (both natural and synthetic)
Geraniol, limonene, linalool, and citronellol (these are common irritants that come in natural and synthetic versions)
Using flaky mascara and not washing your eye makeup off before you go to sleep can also irritate your eyes.
What Are Some Of The Harmful Ingredients To Avoid In Mascara?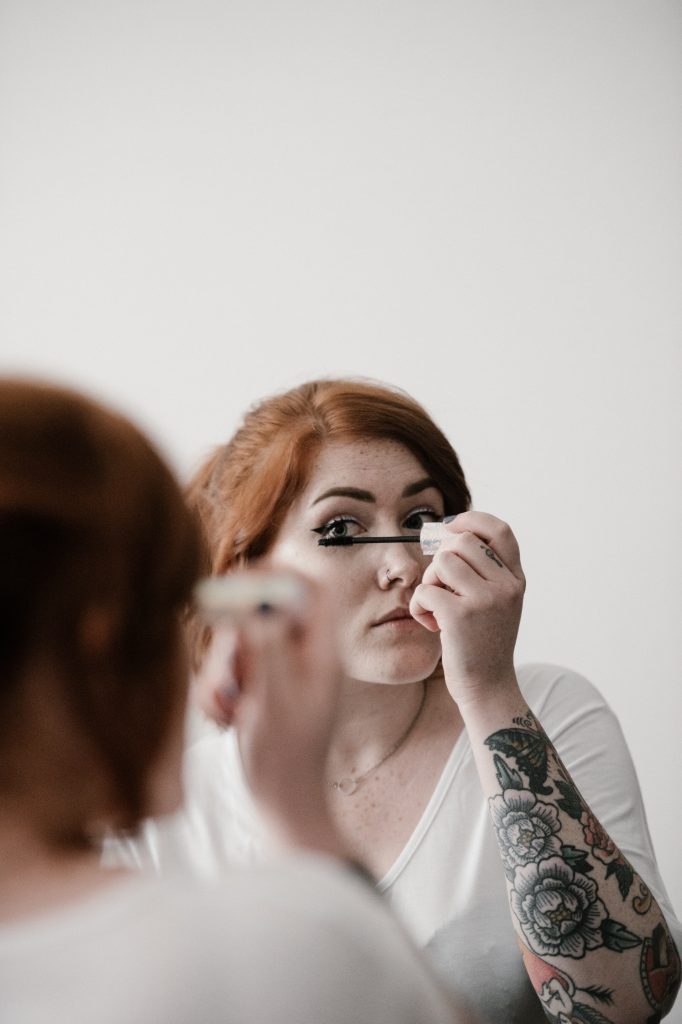 Parabens
This is a very common category of toxins that you'll find in TONS of your cosmetics and personal care products. Parabens are preservatives that help prevent the growth of things like mold and other microbes in these types of products. Considering that mold CAN be toxic, adding preservatives to personal care products and cosmetics is not totally a bad thing. (This is also why it's recommended that you replace your mascara every three months.)
But the problem is that parabens are linked to a host of serious health concerns, from cancer to infertility. They are known endocrine disruptors, which means they can wreak havoc in the body's many important hormonal systems.
Thimerosal
This is another ingredient that's often used as a preservative in conventional mascaras. It's a mercuric derivative that can be VERY toxic to humans and the environment. Pregnant people and new parents should be especially careful of this ingredient because it can negatively affect the brains and organs of fetuses, infants, and young children.
The FDA actually banned the use of thimerosal in cosmetics all the way back in 1974, with the EXCEPTION of use in eye cosmetics!
Formaldehyde
It comes as no surprise that formaldehyde is toxic, but most people don't realize how often this is an ingredient in products like mascara.
In addition to being a carcinogen, formaldehyde can also cause allergic reactions, respiratory problems, itchy and watery eyes, dizziness, nausea, fatigue, insomnia, and other symptoms. Not exactly a great ingredient to be putting right next to your eyeballs.
Aluminum Powder
You may be aware of aluminum's negative health potential as an ingredient in deodorants and antiperspirants. In mascara, aluminum powder is often used to give it its dark color.
Aluminum is a heavy metal that can be a neurotoxin at moderate to high doses. Although more research still needs to be done on how aluminum is actually absorbed through the skin, the European Commission has dubbed it unsafe for use in cosmetics.
Body
In this article, we're going to talk about all things non-toxic lipsticks, glosses, and balms: what are the chemicals to avoid, and which brands are safe.
Coal-Tar Dyes
Also used to give mascara its color, coal-tar dye is another common ingredient that can contain a lot of heavy metal contaminants (like lead). Coal-tar dyes will sneak into cosmetics and hair dyes through long and difficult-to-decipher names like P-phenylenediamine, diaminobenzene, and aminophenol.
These ingredients have been known to cause eye injury, allergic reactions, and several kinds of cancer. Coal-tar ingredients don't have to be approved by the FDA; companies only have to give a warning statement on the product's label.
Butylated Hydroxytoluene (BHT)
BHT and its relative, Butylated Hydroxyanisole (BHA), are synthetic antioxidants that are also commonly used in mascara to extend shelf life. BHA has been linked to reproductive and developmental toxicity, along with cancer.
Although more research still needs to be done on BHT specifically, it should also be noted that it's a toluene-based ingredient. Toluene is a well-established toxin that can cause neurological damage and more.
Sodium Laureth Sulfate (SLS)
This is an ingredient you really have to watch out for because it will even sneak into products that are marketed as "green." SLS is made using a process known as ethoxylation, which uses ethylene oxide, a chemical that can cause multiple types of cancer as well as infertility.
Through this process, SLS and other ehtoxylated ingredients (which you can usually identify by the "eth" in their names), can be contaminated with polyethylene glycol compounds (PEGs), residual ethylene oxide, and 1,4 dioxane, (yet another carcinogen).
Talc
In its PURE form, talc is safe. The problem is that talc is often contaminated with asbestos, which causes cancer, so it's a risky ingredient to use.
Fragrance
We talk about "fragrance" on The Filtery all. the. time. In the United States, "fragrance" and "parfum" are protected by an "industry secret" law that allows companies to NOT disclose certain potentially toxic ingredients (there is a list of almost 4,000 of them) on their labels, leaving consumers in the dark. And it's not just perfume that contains "fragrance" – mascaras do too!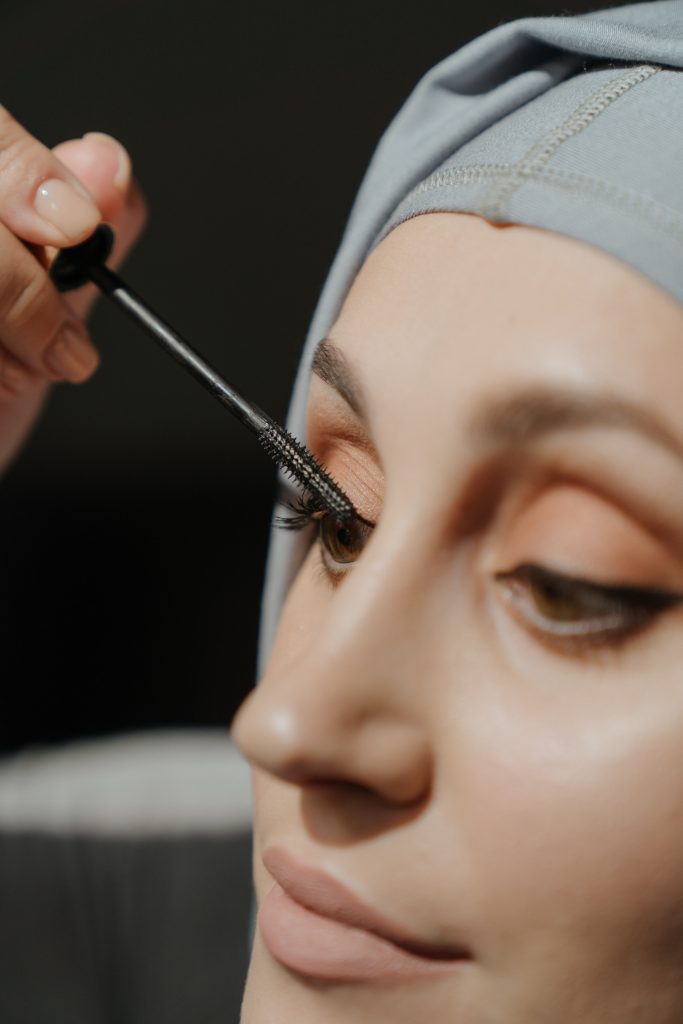 LESS Toxic Ingredients in Mascara
There are some other ingredients that are "less bad" and exist in a sort of grey area. These ingredients are found in several of the mascaras listed below. Sensitive individuals may want to watch out for these ingredients too.
Phenoxyethanol
This is a safer alternative that has begun taking the place of parabens and formaldehyde. Although it's definitely better than its alternatives, phenoxyethanol can still be irritating for some people. In 2008, the FDA issued a warning about one form of nipple cream that contained phenoxyethanol because of the potential risks to breastfeeding infants.
Phenoxyethanol is also processed through ethoxylation, which means it could be contaminated with carcinogens.
The E.U. (which has much stricter cosmetics safety laws than the U.S.) allows phenoxyethanol at less than 1% of the total product mixture.
Acacia Senegal Gum A.K.A. Gum Arabic
This is a plant-derived fiber that comes from Acacia trees and acts as a thickening-agent. This ingredient is safe for many people, while it may cause allergic reactions in others. It's used in food products, it can cause things like gas, bloating, nausea, and diarrhea for some individuals. Check out this article for a deep dive into the pros and cons of Gum Arabic. This one shouldn't be as much of a concern since you (hopefully!) aren't eating mascara!
Aminomethyl Propanol
This is another ingredient you'll commonly find in mascara that's not nearly as bad as some of the others, but can still be an irritant for some. The Cosmetic Ingredient Review says that aminomethyl propanol is safe for use in cosmetics as long as it doesn't exceed 1% of the total product mixture.
Propylene Glycol
This ingredient is found in several of the "less toxic" drugstore mascaras listed below. It's an ingredient that's derived from petroleum and can contribute to tissue damage when used internally.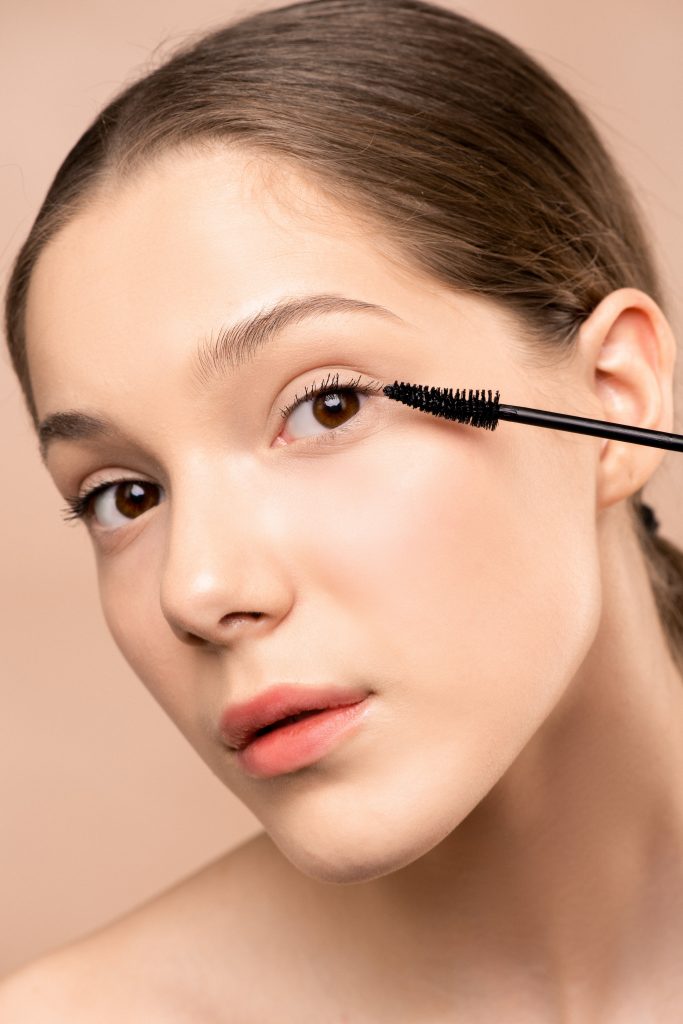 Are Natural Or Organic Drugstore Mascaras Any Good?
These days, there are several brands of drugstore mascaras that are not only safe from toxic ingredients but are also effective and perform well. Below you will find a variety of non-toxic mascara brands that carry waterproof mascara, different colored mascaras, primers, different shaped/textured brushes, and more — so you can shop according to your preferences!
In addition to leaving OUT toxic ingredients, also look for natural, conditioning ingredients that will nourish your eyelashes–like jojoba and coconut oil, beeswax, and vitamin E.
8 Non-Toxic, Natural Drugstore Mascara Brands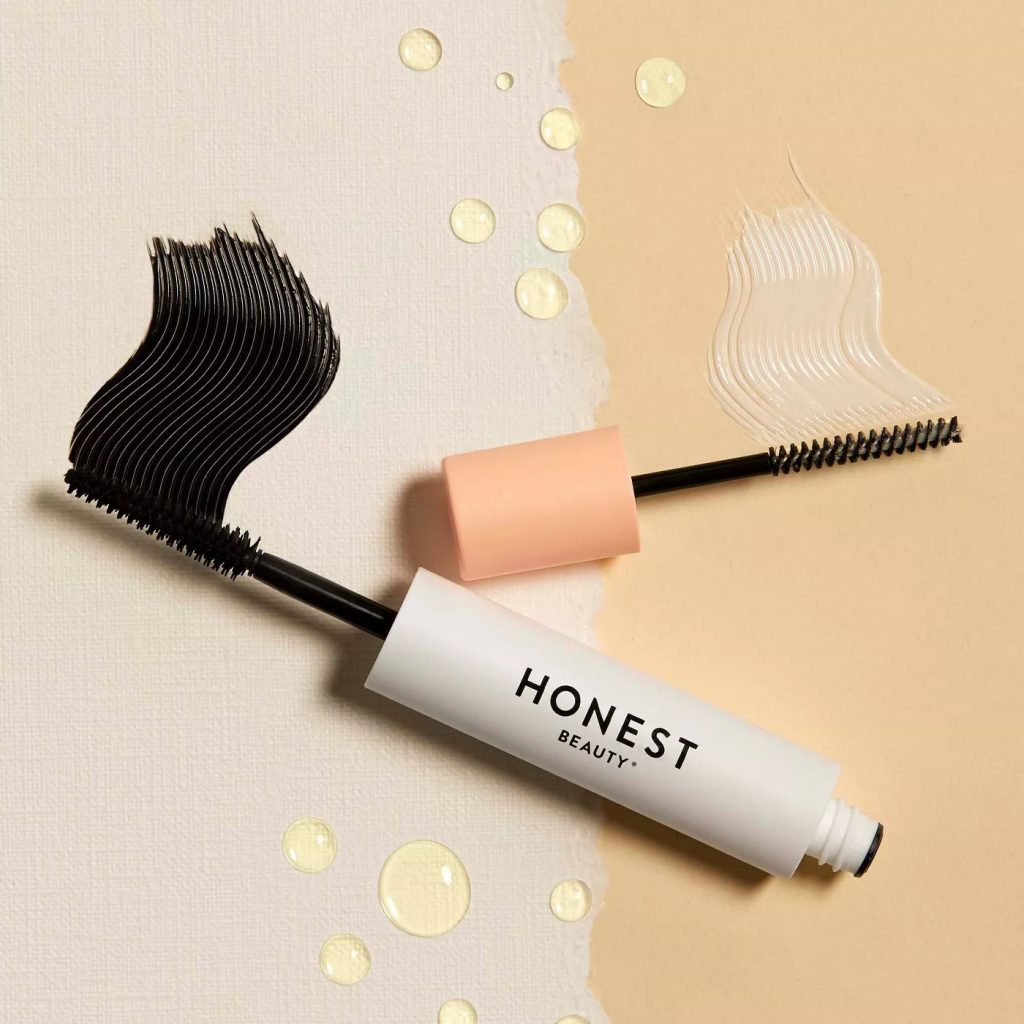 Honest's non-toxic mascara is one of the most popular mascaras out there, which you can not only buy online but at lots of convenience and grocery stores around the country.
It's cruelty-free (but not vegan; it uses beeswax) and uses jojoba esters as its key nourishing ingredient. You can find some more of our Honest Beauty picks here.
Available at: Walgreens, Kroger, Whole Foods, Meijer, Walmart, Target, Honest.com, & more | Store Locator
---
Physicians Formula carries a line of natural and organic mascaras that are available in most drugstores around the country. These formulations are free of fragrance, parabens, gluten, are ophthalmologist approved for those with sensitive eyes and contact lens wearers, and are cruelty-free (but not vegan – they do use beeswax). They use nourishing oils like jojoba, soybean, olive, and aloe vera.
Available at: Walgreens, CVS, Rite Aid, Meijer, Walmart, Target, PhysiciansFormula.com | Store Locator
---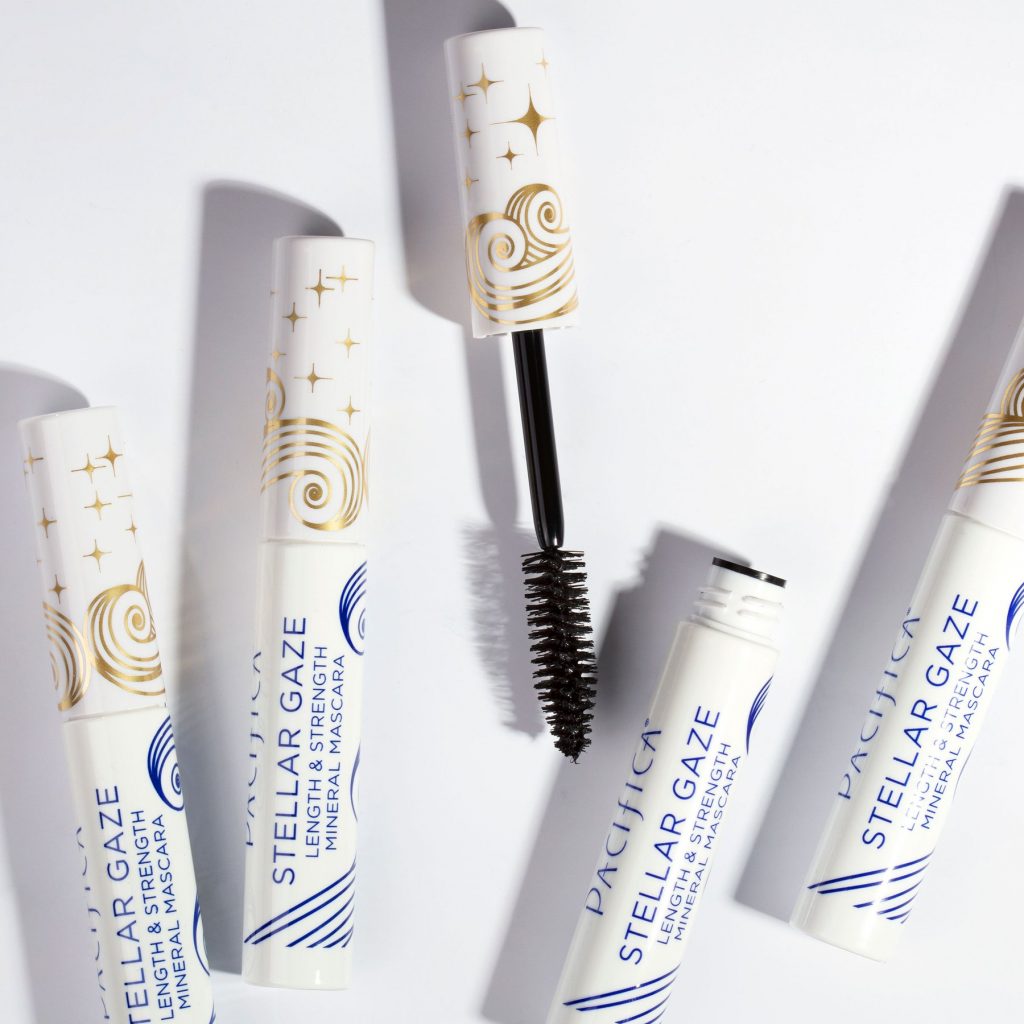 Pacifica's collection of vegan and cruelty-free mascaras are available at many grocery stores. They have several different varieties, from colors to water resistance and more. They're infused with coconut oil, vitamin B, jojoba oil, and chamomile to keep your lashes luscious.
Available at: Kroger, Target, Meijer, Walmart, Sprouts, Fresh Thyme, PacificaBeauty.com
---
Is Burt's Bees mascara non-toxic? It's a valid question because although Burt's Bees is a well-known and widely available "natural" brand, some of its products do contain questionable ingredients. Its mascaras, however, are safe to use. They are cruelty-free, ophthalmologist tested, and use jojoba oil to nourish your lashes.
Available at: CVS, Target, Meijer, Sprouts, Walmart, BurtsBees.com
---
W3LL PEOPLE's non-toxic mascara has been highly rated and recommended by Allure, and verified safe by the Environmental Working Group. It's gluten-free, cruelty-free, and made with beeswax and sunflower seed oil. Many of its ingredients are organically grown.
Available at: Rite Aid, Target, w3llpeople.com
---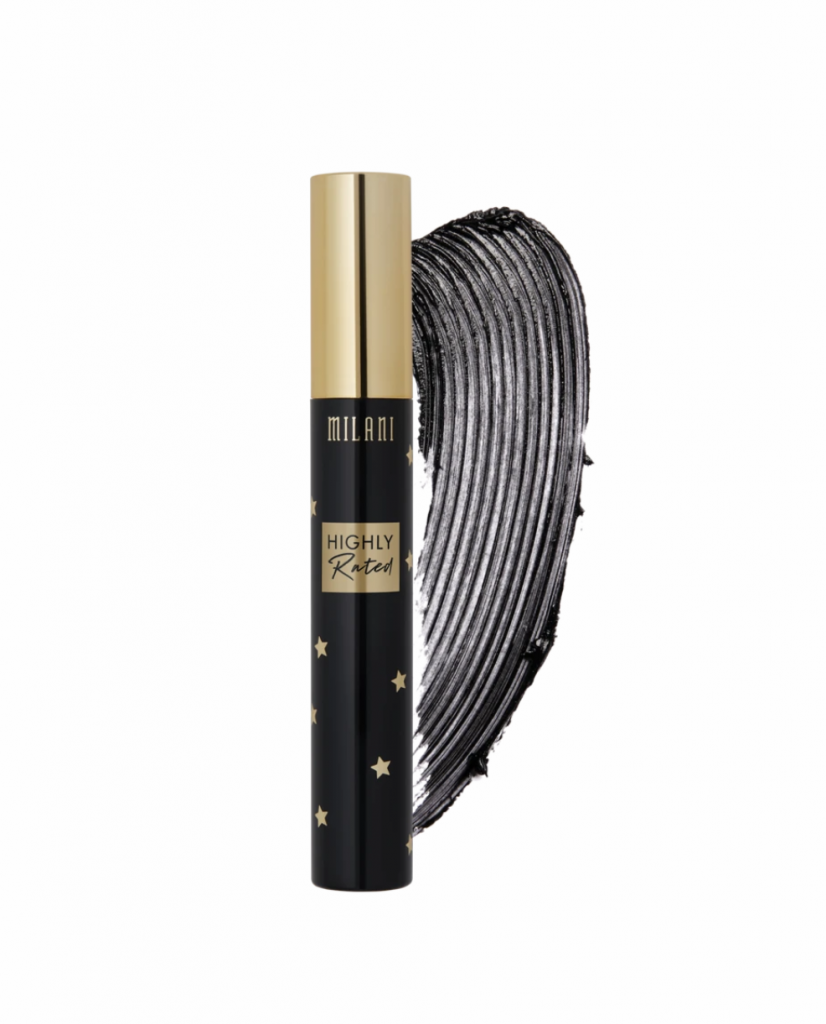 Milani's Mascara is a popular drugstore mascara that's cruelty-free and Made in the USA. It also uses beeswax and jojoba oil. If you're looking for thick-looking lashes with a lot of volume, this is the one you want!
This is the only one of Milani's mascaras that is free of toxic ingredients; we can NOT recommend the waterproof or other varieties.
Available at: Walgreens, Target, Meijer, Walmart, MilaniCosmetics.com
---
NYX's On the Rise "Liftscara" is vegan and can be found at a lot of drug and big box stores.
When it comes to safe, non-toxic ingredients, we ONLY recommend the On the Rise, not the other NYX mascaras.
Available at: CVS, Walgreens, Target, Meijer, Walmart, NYXCosmetics.com
---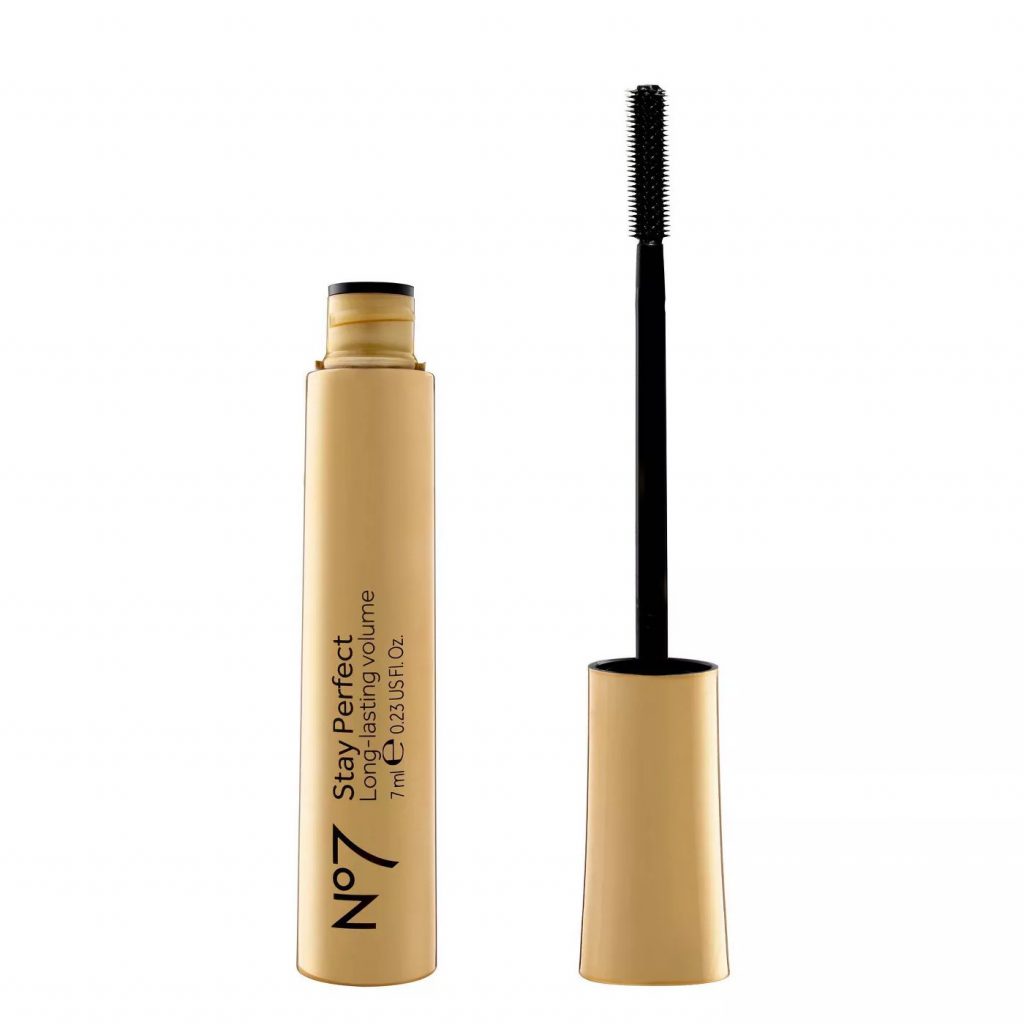 This No7 mascara is available at big box stores and uses jojoba oil and beeswax. It's also waterproof and a great option for long-lasting wear.
For safety, we ONLY recommend the No7 Stay Perfect Long Wear Tubular Mascara, not the other No7 mascara varieties.
Available at: Walgreens, Target
---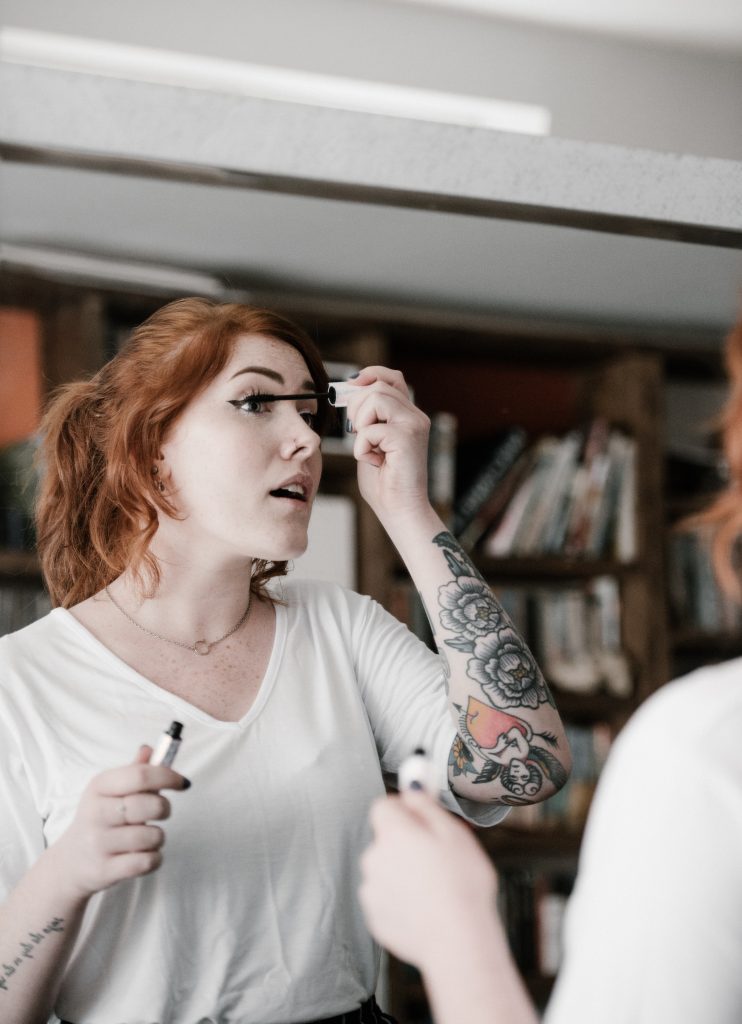 "Less Toxic" Mascaras Available at Drugstores
If you're in a pickle, you can feel okay about purchasing the following mascaras as well. These mascaras are free from the MOST toxic ingredients, although they do contain a few ingredients that are moderately problematic in terms of safety.
Revlon Extend Lift Volumized Mascara
L'Oreal Paris Voluminous Million Lashes Mascara
Maybelline New York Volum' Express The Colossal Cat Eyes
Maybelline New York The Colossal Volum' Express
Maybelline The Falsies Volum' Express Mascara
Maybelline New York Volum' Express The Mega Plush
Maybelline Lash Sensational Mascara
Wet N Wild Mega Length Waterproof Mascara
Wet N Wild Lash Renegade Multi Dimensional Waterproof Mascara
Wet N Wild Megawear Enhance & Define Mascara
What About Covergirl's New Lash Blast Clean Volume Mascara?
You may have seen commercials for Covergirl's Lash Blast Clean Volume Mascara. It's obviously targeted as "clean" beauty (it's literally in the name!), but is it really safe? Although this mascara is vegan and cruelty-free, it does contain a few potentially problematic ingredients. We put this one in the "better, but not best" category.
Is Maybelline Mascara Non-Toxic?
It's a great question! You'll notice that none of Maybelline's mascaras come highly recommended by us, but that SOME of them made the "less toxic" list. The thing about Maybelline is that they make so many different kinds of mascara, and the level of ingredient safety really runs the gamut. So, we've sorted Maybelline's mascaras into the BETTER and WORST in terms of toxic ingredients. If you don't see a certain kind of mascara on this list, it probably falls somewhere in the middle.
The BETTER Maybelline Mascaras:
Maybelline New York Volum' Express The Colossal Cat Eyes
Maybelline New York The Colossal Volum' Express
Maybelline The Falsies Volum' Express Mascara
Maybelline New York Volum' Express The Mega Plush
Maybelline Lash Sensational Mascara
The WORST Maybelline Mascaras:
Maybelline Total Temptation Mascara
Maybelline Lash Sensational Curvitude Mascara
Maybelline New York Lash Discovery Washable Mascara
Maybelline Illegal Lengths Fiber Extensions Waterproof Mascara
Maybelline New York Lash Sensational Mascara
Maybelline New York Lash Sensa Tional Mascara
Maybelline New York Total Temptation Waterproof Mascara
Maybelline New York Total Temptation Mascara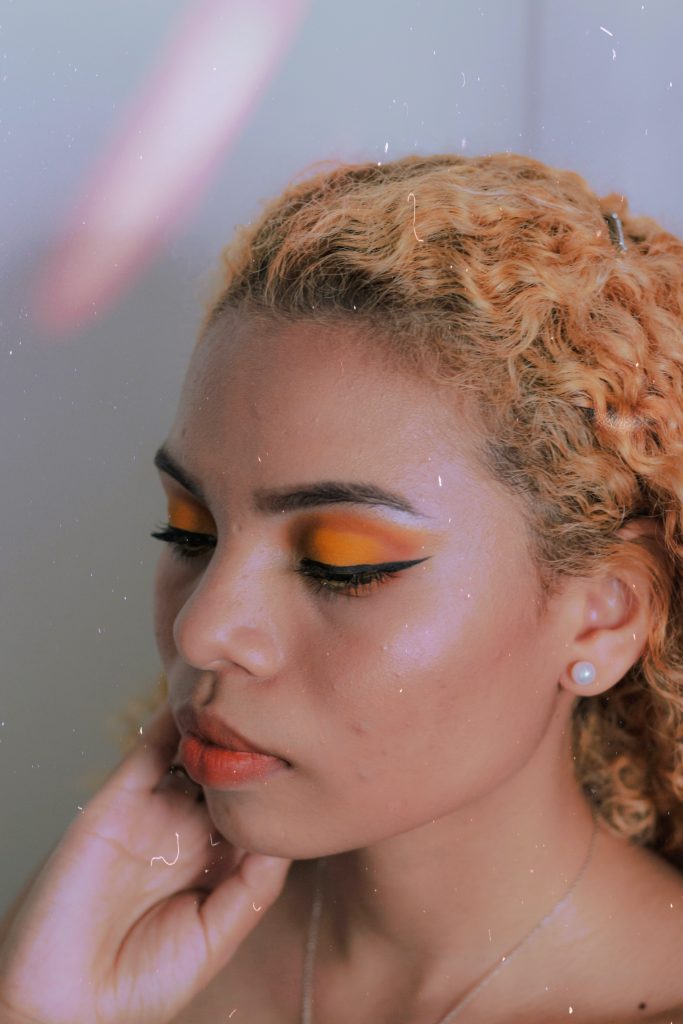 What Are the Best Natural, Non-Toxic Mascaras?
If you're looking for even more safe, natural, and non-toxic mascaras, there are lots of other brands available for purchase online. You won't be able to find most of these in drugstores, though.
Best Non-Toxic, Natural Makeup Remover
When it comes to reducing eye irritation, it's important to wash your makeup off at the end of the day and not sleep in it (even if you're using a non-toxic version!). Here are the best non-toxic makeup removers:
Conclusion
The cosmetics industry is starting to clean up its act in terms of safe ingredients, making non-toxic drugstore mascara more available than it was a decade ago. But, there are still some sneaky toxic ingredients out there, and many conventional mascara brands are not exactly safe to use. The next time you're in the makeup aisle at a drug, grocery, or big box store, go for one of the recommended mascara brands above!
---
PIN IT:
Image credits: Ana Itonishvili, Amy Shamblen, Annie Spratt, Shiny Diamond, Andrea Piacquadio, APHOTOX, product photos belong to respective brands