Kiddie pools are a quintessential part of summer childhood memories. Beloved in backyards big and small (and in some cases on balconies or in tiny courtyards for city dwellers!), kiddie pools provide hours of entertainment and welcome relief for parents when temperatures start to climb.
The bad news is that finding a completely non-toxic kiddie pool is a bit of a challenge, considering that most are made from toxic PVC plastic.
But the good news is that there are some safer options available on the market today. We've done the research for you so that you can enjoy your outdoor spaces with your kiddos during this year's long, hot days of summer.
This post may contain affiliate links, which means we may earn a small commission if you choose to make a purchase. We only make recommendations that are genuine and meet our ingredient/material safety standards.
What Kind of Plastics Are In Kiddie Pools?
When considering the materials used in kiddie pools, there are a few things to understand about plastics. Just as you are undoubtedly aware of how plastics have changed in terms of food storage, water bottles, and other everyday items, there has also been attention drawn to kiddie pools and other children's items.
The main type of plastic you will want to be aware of is Polyvinyl Chloride, or PVC. This is a common material in kiddie pools and also, unfortunately, a toxic one. Its chemical additives include phthalates, cadmium, lead, and other things that are potentially harmful to your child's health.
In addition to that, PVC is no friend to our ecosystem. When chlorine-based chemicals like PVC are produced, we see a direct effect on the atmosphere and local water supply. The pollutants discharged in PVC production wreak havoc on the world around us.
Therefore, your kiddie pool choice is not only about protecting your little ones, but also about making a decision that is best for the world around them (and therefore, their future!).
Why Do I Need To Be Worried About A Toxic Kiddie Pool?
Parents are faced with so many choices for their children. Some decisions are as minor as whether or not to sign their five-year-old up for soccer over T-ball, while others have more long-lasting consequences when it comes to health.
The best choices we can make for our kids will keep them safe. Parents cannot prevent every scratch or bump or bruise (nor should they!), but the potential damage certain toxins can do to one's health over a long period of time can be more serious or long-lasting. It's impossible to avoid environmental toxins 100%, which is why it's important for parents to focus on what they can control.
Both PVC and BPA (bisphenol-A)—two extremely common kiddie pool materials—are known to be damaging to children's health. Using PVC products can lead to the ingestion of harmful chemicals, and BPA has been linked to cancer and is known to affect the brain and prostate gland in children.
By ensuring your kiddie pool is free of these harmful chemicals (and making efforts to reduce harmful plastics in the rest of your household), you will help to protect your children from problematic health consequences.
Are Inflatable Pools Toxic? Are Hard Plastic Kiddie Pools Safer Than Inflatable Kiddie Pools?
For many parents looking into the safety of kiddie pools, questions arise about the differences, pros, and cons between traditional hard, plastic kiddie pools and the inflatable versions. Some parents like the stability of the traditional hard kiddie pools, whereas others are drawn to the easy portability of a pool that can be deflated for storage.
Of course, the fact that the inflatable pool requires a pump can also be a con. So sometimes the choice comes down to safety, budget, and personal preference over portability.
When it comes to toxicity though, you'll find that hard plastic kiddie pools tend to be safer on average because of the types of plastic they're typically made out of. When it comes to kiddie pools, parents should have a general understanding of plastic resin codes in order to make an informed buying decision.
What Are Plastic Resin Codes?
One of the best ways for consumers to understand the health impacts associated with plastics is through the plastic resin codes. Just as you may be hesitant to dine in a restaurant given a "C" rating by your local health department, you may be wary of purchasing items that fall under certain resin codes (once you know what they are).
These codes were developed almost 35 years ago, and since that time, consumer awareness has grown steadily as we have learned more about how plastics can damage our health and our environment.
Initially, the codes were developed to facilitate the recycling of consumer plastics. The codes (or numbers) designated which type of resin was used in the product so that workers in a recycling facility would know how to separate and sort them.
When it comes to recycling—and also when it comes to our health and environment—not all plastics are created equal. In fact, the sad truth is that most of us think more plastic is recyclable than what actually gets recycled in any given year. This is why we continually see innovative and ethical businesses trying to find ways to recycle plastic, like making shoes made from recycled water bottles.
For an extensive breakdown on the 7 types of plastic, check out this article. In the meantime, here's a summary of the different plastic resin codes:
"1" = polyethylene terephthalate or "PET," which is commonly used in plastic cups or bottles and other types of packaging
"2" = high-density polyethylene or "HDPE," which we find in milk jugs, plastic bottles, and cups
"3" = polyvinyl chloride or "PVC," which is found in everything from raincoats to credit cards to pipes
"4" = low-density polyethylene or "LDPE" is in our plastic bags, the plastic rings attached to six-packs of beverages, and tubing
"5" = polypropylene or "PP," which is associated with many food containers and auto parts
"6" = polystyrene or "PS," which covers the styrofoam category, along with plastic utensils and cafeteria trays
"7" = a category of "other" plastics including acrylic, nylon, polycarbonate, and polylactic acid
Which Resin Codes To Avoid For A Non-Toxic Kiddie Pool
Now that you have read a general overview of the resin codes, you may be wondering how to apply this knowledge when shopping for the best kiddie pools. The good news is we have done the work for you, and our list can be the "cheat sheet" you need to make an informed decision easily and quickly.
The numbers you need to remember as the "no go" category include:
"1" = polyethylene terephthalate or "PET"
"3" = polyvinyl chloride or "PVC"
"6" = polystyrene or "PS"
"7" = a category of other plastics including acrylic, nylon, polycarbonate, and polylactic acid
If possible, try to avoid any kiddie pools with these resin codes, as the materials in the pools could be harmful to your kids and the environment.
Unfortunately, almost every inflatable kiddie pool out there is made from PVC, which makes shopping for a non-toxic kiddie pool a bit of a challenge (although we did find a few brands, listed below)! If you ARE going to purchase a PVC-based kiddie pool (sometimes listed as just "vinyl" under the materials), then at least look for "phthalate-free" or "BPA-free" PVC, which can be considered a safer option.
Which Plastic Resin Codes Are Considered Safer For Kiddie Pools?
Now that you know which resin codes to avoid, you can prioritize your kiddie pool choices as those marked with the following resin codes:
"2" = high-density polyethylene or "HDPE"
"4" = low-density polyethylene or "LDPE"
"5" = polypropylene or "PP"
These are safer choices when it comes to kiddie pools (as well as other plastic items that your children may use). With that in mind, let's take a look at some of our favorite choices so you can find the perfect kiddie pool to enjoy in the warm weather.
Best Non-Toxic Kiddie Pools For Your Little Ones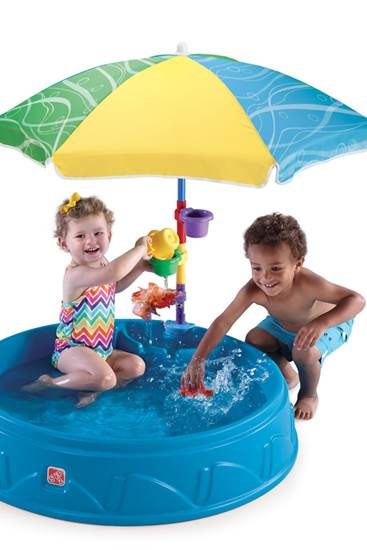 Dimensions: 37.5" H by 37.5" W by 7.5" deep
Weight: 13 lbs.
Features: Two molded seats, a 40-inch umbrella, three funnel cups, and a water spinner water toy included
This hard plastic pool is a classic and is loved by parents— especially thanks to the shade-providing umbrella. Protecting your little one's delicate skin is just as important as protecting them from toxic materials, and this pool with its built-in shade is a great one to have in yards with full sun.
The pool holds 12 gallons of pool water for splash-time fun, and in the colder months, it can be used as a sandbox, holding up to 165 pounds of sand. It is made from HDPE (resin code #2) and is both durable and affordable.
Dimensions: 70.86" by 70.86" by .19"
Weight: 1 pound
Features: Multipurpose item with a portable carrying case that also acts as a bucket
When it comes to safety and responsibly designed kiddie pools, EverEarth is one manufacturer you can rely on for not only attention to your kids' health but also a commitment to protecting the environment. EverEarth uses more eco-conscious materials in its products whenever possible.
This pool, which is suitable for children three years and up, is made from thermoplastic polyurethane (TPU), which the brand says is phthalate-free, biodegradable, recyclable, and has a 20% smaller CO2 footprint compared to traditional PVC. It is great summer fun for younger kids.
Dimensions: 156 x 118 x 100 inches
Weight: 28.6 pounds
Features: This pool doubles as an inflatable bounce house and can hold up to four children
It's VERY difficult to find a PVC-free kiddie pool, but Costzon carries a collection of inflatable pools that are made from PU and nylon fabric, which are better than PVC. It's durable and puncture-resistant, too.
You're sure to become the go-to fun house of the neighborhood with one of these inflatable pool/bounce houses!
Tips For Enjoying Safe, Non-Toxic Kiddie Pools This Summer
Once you choose a kiddie pool to enjoy in the warm temperatures, you may have a few more questions about using it, caring for it, and storing it. We have some final tips to leave with you to ensure you have a safe and healthy kiddie pool experience.
What About That Garden Hose?
Making safe choices when it comes to kiddie pools is important, but it is equally important to fill that pool safely. Consider this when it comes to the garden hose you use to fill the pool.
Your little ones may very well drink some of the water in the pool (accidentally or not), so you want to be sure it is safe to ingest. Most garden hoses are made with PVC, so at the very least, you want to make sure you buy one that is labeled "lead-free," "BPA-free," and "safe for drinking water."
But there are some PVC-free garden hoses available on the market. Here are our picks:
Water Right: PU, lead-free, BPA-free, UV-stabilized
Is It Safe To Leave Water In A Kiddie Pool and for How Long?
Over time, chemicals can leach out of the plastics and into the water. To be safe, you do need to drain it out every 24 hours. This can be a bit of a dilemma for parents who also do not want to waste water, so you may not want to make it an everyday activity for your little ones.
What Is The Safe Way To Disinfect A Kiddie Pool?
The CDC recommends using bleach to disinfect your kiddie pool, which is not a bad idea if a sick child has an accident in the pool or something like that. However, bleach can be toxic as well, so if you're just doing a basic cleaning, a non-toxic dish detergent will work just fine! Here are a few safe brands we recommend:
Simply squirt some soap into the pool, add a bit of fresh water from the hose, wipe it down with a rag, rise, and dump!
How Do You Store A Plastic Kiddie Pool?
Once you have finished with the kiddie swimming pool for the season, you may decide to transform it into a sandbox for the kids to play in during the cooler months. But if you are not going to use it, give it a good final cleaning and make sure it is thoroughly dry before storing it in order to prevent (potentially toxic) mold and mildew. Because the hard plastic pools can take up a lot of space, consider purchasing some large/deep wall hooks for your garage, which can keep it off the floor and out of the way.
It seems protecting our children from harmful toxins and endocrine disruptors has become a full-time job! The best tip when it comes to finding a non-toxic kiddie pool for your little one is this: you are an amazing parent just for getting informed! Try not to let yourself get overwhelmed. Information is a powerful and you looking into these issues to protect your children will help to ensure their wellbeing for years to come!
---
PIN IT:
Image Credits: Christine Tutunjian, Polina Tankilevitch, all product photos belong to respective brands