Why should you switch to non-toxic laundry detergent? It's kind of ironic: you wash your clothes, sheets, and towels, expecting them to be fresh and clean, but really you just end up coating them with a bunch of synthetic chemicals that could potentially cause problems for you and your loved ones over time.
The most popular laundry detergent brands carry ingredients that have been linked to everything from allergies and dry skin all the way to cancer. Even the baby and "Free & Clear" versions contain chemicals that pose a risk to your health.
There are so many great smelling non-toxic laundry detergent brands that are completely effective, so why NOT choose the safer bet? Below are our researched and recommended brands for the best non-toxic laundry detergent.
This post may contain affiliate links, which means we may earn a small commission if you choose to make a purchase. We only make recommendations that are genuine and meet our ingredient safety standards.
What Are the Harmful Effects of Detergents?
Whether or not your laundry detergent will actually cause issues depends on a lot of different factors, including age, total toxic burden, health diagnoses, where you live, and more. Those who are extra sensitive or have chronic health concerns are more likely to react negatively to the ingredients in common laundry detergents compared to those who are healthier and more equipped to process certain toxins and get them out of their bodies.
Common ingredients found in conventional laundry detergents have been linked to issues like:
Skin irritation and allergies
Respiratory problems
Nervous system issues
Endocrine (hormone) disruption
Infertility
Damage to vision
Cancer
Organ damage
Even those individuals who don't have strong and immediate reactions to specific brands of detergents would do well to consider switching to a safer alternative since these chemicals, especially when used in small quantities, tend to show the most damage over long periods of time.
Toxins in Laundry Detergent: Chemicals to Avoid
Before we get into our recommended brands, let's review some of the most common ingredients in laundry detergents that have been linked to health problems:
Fragrances: This is a big one when it comes to laundry detergents. Even the brands that are marketed as "clean" or "green" can contain mystery fragrances that can potentially cause problems. In the U.S., companies are legally allowed to hide almost 4,000 different chemicals under the word "fragrance" or "parfum," without actually diclosing the ingredients to consumers. Some of these chemicals are safe, while others (like phthalates and VOCs) are known toxins. You can learn more about this issue right here.
Phthalates: Phthalates are chemicals that are often used in laundry detergents to make the scents last longer. They may or may not be listed under the ingredients because they can sneak in under the "fragrance" label. Phthalates can be endocrine disruptors, which means they can interfere with hormone functioning and lead to things like infertility and cancer.
Sodium Lauryl Sulfate & Sodium Laureth Sulfate (SLS/ SLES): SLS and SLES were originally developed to degrease garage floors! As a foaming agent and dirt remover, these are some of the most commonly used ingredients in laundry detergents as well as shampoos, dishwashing liquid, and other kinds of soaps. SLS and SLES have been found to irritate and inflame the skin, eyes, and lungs. While SLES is less irritating than SLS, it can be contaminated with ethylene oxide and 1,4-dioxane due to the way it's made. Ethylene oxide is known to cause multiple types of cancer and infertility, and 1,4-dioxane is a carcinogen.
Phosphates: Some evidence links phosphates to illnesses such as cardiovascular disease. Not only that, but when they end up in our wastewater systems, phosphates can interfere with the ecosystems necessary for aquatic life health and survival.
Formaldehyde: Most of us know about formaldehyde because it's used to preserve dead bodies, but it's also commonly found in many laundry detergents. According to the EPA, formaldehyde is a class B1 probable carcinogen, which means it can probably cause cancer.
Chlorine Bleach: Most of us know that bleach is toxic, but many don't know just how dangerous it can be. It's often found in laundry detergents, especially ones meant for white loads. Chlorine bleach can cause burns, pulmonary edema (fluid in the lungs), respiratory failure, and other health conditions.
Dioxane: This has been a known carcinogen since 1988. It can cause skin, eye, and lung inflammation.
Nonylphenol Ethoxylates (NPEs): The EPA states that NPEs have been linked to hormonal problems, cancer, and infertility, and can also cause severe harm to aquatic life when it reaches waterways.
Optical/UV Brighteners: Brighteners are used to make fabrics look whiter and brighter. They're also used to treat (read: hide) stains by coating fabric with a substance that reflects light. These brighteners can irritate skin, eyes, and lungs, and can harm aquatic life as well.
Other potentially problematic ingredients to watch out for are:
Ammonium Laureth Sulfate (ALES)
Ammonium Quaternary Sanitizers (Quats)
Dichlorobenzene
Benzyl Acetate
Artificial Colors, Dyes, and Preservatives
The Best Non-Toxic Laundry Detergent Brands
All of that may be overwhelming, but the good news is that there is no shortage of natural, non-toxic, and great smelling laundry soaps and detergents on the market. So, what is the safest laundry detergent? All of the following brands are free from ingredients that are potentially toxic and safe to use. (Keep reading for the best brands by category!)
This EWG-verified brand carries non-toxic and eco-friendly laundry detergent, oxi boosts, and dryer balls (along with other products like dishwasher detergent, all-purpose household cleaners, hand soap, and more).
Their refillable, fragrance-free laundry products are free of all the nasties, like petroleum derivatives, dyes and colorants, artificial fragrances, parabens, phthalates, and more. But don't worry: it still really works—you can even check out their testing process here!
Plus, this brand is super sustainable, too. They carry a whole host of certifications like Cradle to Cradle, Leaping Bunny, Climate Neutral, B Corp, and more. Plus, all of their packaging is plastic-free and compostable.
The team at Grab Green is committed to formulating innovative and high-performing cleaning products that are also completely safe, eco-friendly, and not tested on animals. Try their Lavender and Vanilla for a great smelling natural detergent!
Meliora is a super safe laundry detergent brand with several badges, like MADE SAFE, Leaping Bunny, and B Corp. It's made and packaged in Chicago Illinois, and they give at least 2% of sales towards nonprofits like the Women's Voices for the Earth, a non-profit dedicated to eliminating toxic chemicals from products.
This Australia-based brand makes non-toxic laundry detergent that's made out of 100% organic ingredients. You can purcahse a starter pack that comes with a sugarcane pump bottle, and then buy their low-waste refill pouches after that. With 400 washes in one pouch, it goes a LONG way!
Plus, they plant a tree with each purchase, too.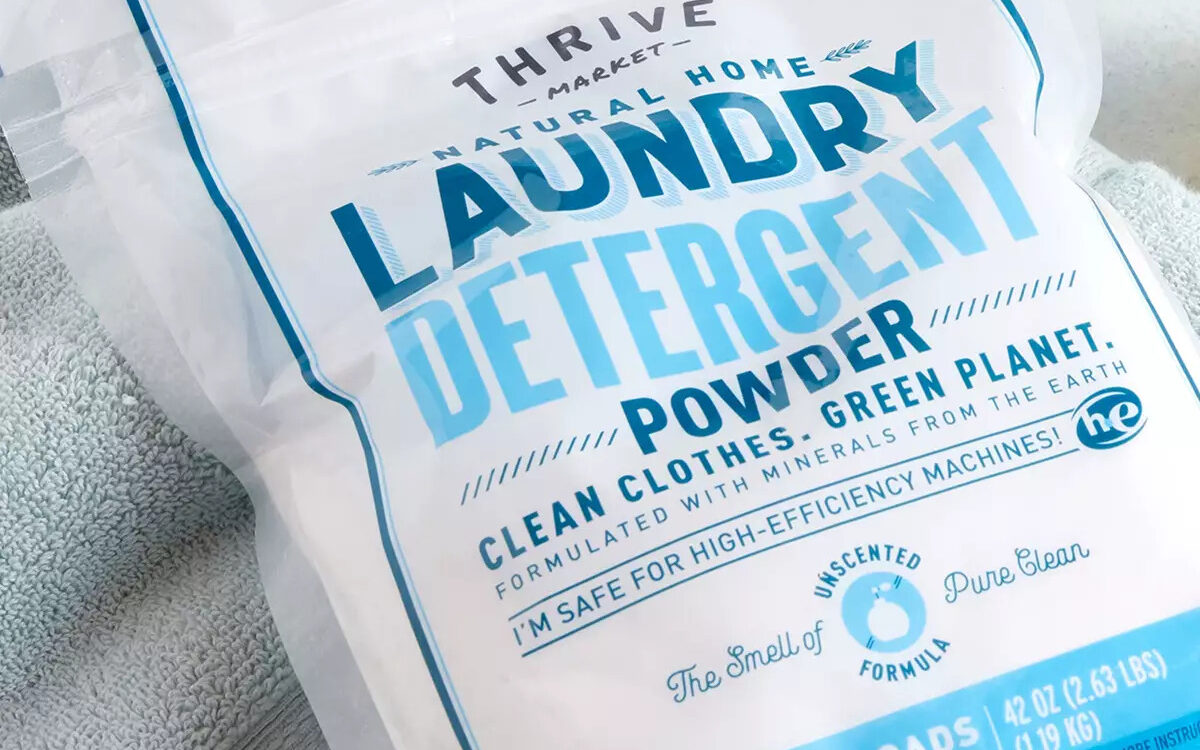 If you're a fan of Thrive Market (it's so convenient!), then you can rest assured that their branded line of laundry products are safe and non-toxic. It's free of all the potentially harmful ingredients listed above, is vegan, and biodegradable. It uses naturally-derived enzymes to clean stains and is safe for septic tanks. This is one of the best non-toxic laundry detergent brands.
In addition to being safe and non-toxic, Molly's Suds laundry detergent is certified vegan and cruelty-free, and is safe for septic tanks. Their laundry powder is made from just five ingredients. The peppermint smells amazing, leaving your clothes incredibly fresh.
Available in Bergamot, Lavender, and Unscented, Common Goods' non-toxic, cruelty-free laundry detergent concentrate is specially formulated for sensitive skin. Plus, they're helping to cut back on plastic with their glass bottle and refillable pouch.
AspenClean's laundry detergents are all EWG Verified and are free from all the nasties listed above. They offer liquid detergent as well as pods that come in scents like Lavender & Lemongrass, Eucalyptus & Rosemary, and Unscented.
Their ingredients and manufacturing processes are also certified sustainable by ECOCERT, their products are Leaping Bunny certified vegan and cruelty-free, and the palm oil used is verified by Roundtable of Sustainable Palm Oil (RSPO) to be responsibly sourced.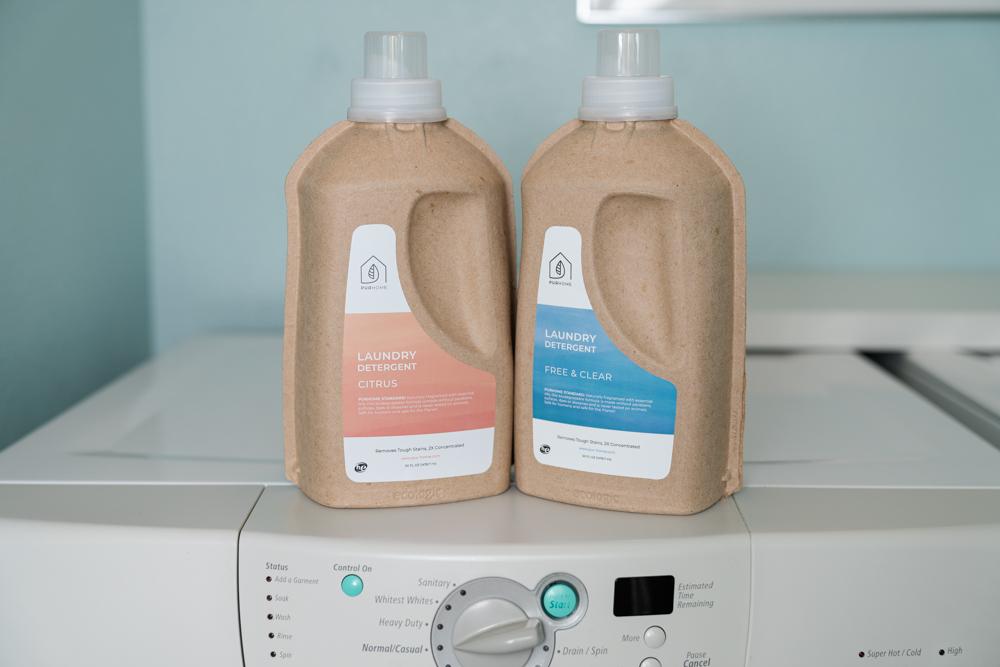 PUR's liquid laundry detergent and detergent pacs are not only free from toxicants, but also cruelty free, vegan and safe for septic systems. Their concentrate formulation comes in compostable packaging and a little bit goes a long way!
Best Non-Toxic Laundry Detergent by Category
When looking for the best non-toxic laundry detergent that also smells amazing, check out ATTITUDE. It's a great brand that is ECOLOGO certified, hypoallergenic, vegan & cruelty-free, and biodegradable. It can be challenging to find a non-toxic laundry detergent that truly smells good, but ATTITUDE has managed to do it!
Best Natural Baby Laundry Detergent: Dropps Baby
Because they're still developing, it's even more important to use completely safe ingredients on little ones. Unfortunately, many of the popular laundry detergents that are marketed toward babies and children still contain potentially harmful ingredients.
Third-party tested and named EPA Safer Choice Partner of the Year in 2017, Dropps is committed to ingredient transparency and you can read in-depth about each ingredient on their website. Dropps' baby detergent gets an A rating from the Environmental Working Group as well.
Plus, Dropps detergent is cruelty-free, made in the USA, supports ocean conservation, and comes in compostable packaging.
Best Laundry Detergent For Eczema: Eco Nuts
If you or someone you love has really sensitive skin, you may want to try something completely different than standard laundry detergent. Eco Nuts Soap Nuts are actually dried berries from trees in the Himalayas that release a natural cleansing agent and fabric softener called saponin when they're agitated with water.
Eco Nuts are USDA Certified and nut allergy safe.
If the Eco Nuts aren't your thing, this is another great brand that's great for sensitive skin. It's got only four ingredients (plus water) and gets an A score from the Environmental Working Group.
Best Detergent For Whites: Puracy
With tons of great reviews, the consensus is in about Puracy's natural laundry detergent. It's plant-powered, developed by doctors, cruelty-free, and strong enough to take care of the dirtiest clothing.
When it comes to tough stains, Meliora Stain Stick does the trick without the toxic chemicals. Made from natural ingredients like vegetable soap and coconut oil, you can use this as a pre-treatment before throwing stained clothes in the washing machine.
Best Laundry Detergent For Sweat and Odors: Puracy
In addition to being the best pick for whites, Puracy gets our "award" for the best detergent for getting rid of odors as well. This stuff really works!
Best Detergent For Hand Washing Clothes: Dropps Small Loads
If you like laundry pods but do a lot of small loads or handwashing, then you can end up wasting a lot of detergent. Dropps makes it more convenient and efficient by offering their natural and toxin-free detergent pods in two sizes, so you can choose what's best for you.
Cheapest Laundry Detergent: Public Goods
Public Goods' hypoallergenic and dermatologist-tested formula starts at just $6.95 / bag. It's totally safe, biodegradable, and made in Illinois. Try their dryer balls too!
This Bac-Out Stain + Odor Remover is not actually a detergent, but can be used in conjunction with regular laundry detergent to get rid of pet accidents and strong smells. It's made from a unique blend of live enzyme-producing cultures, botanicals, and plant-based surfactants for a safe but powerful clean.
Best Laundry Pods: Dropps
Again, Dropps are super safe, and their subscription model makes them very convenient too.
Best He Detergents: All of the above!
Unless otherwise indicated, all of the above detergents are compatible with He washing machines, so you can feel good using any of them!
Best Free And Clear Detergent
If you're looking for a "Free & Clear" detergent, then all of the recommended brands above would fit that category since they're all safe, free of potentially harmful ingredients, and clear of allergens and toxins.
But what about the Free & Clear versions of more conventional brands of detergent such as Tide, Gain, etc? Unfortunately, most of the time, these brands are guilty of greenwashing (marketing something as eco-friendly/natural/non-toxic when it's really not), and these "Free & Clear" detergents still don't make the cut when it comes to toxicity. We recommend steering clear of the conventional brands altogether if possible, and choosing one of the truly non-toxic brands above instead.
Other Commonly Asked Questions About "Non-Toxic" Laundry Detergent
Is Seventh Generation Laundry Detergent Safe?
There are a few popular "eco-friendly" brands out there like Seventh Generation, Mrs. Meyers, and Method. For the most part, these brands fall into the "Better" category of Bad, Better, Best. They're generally not as toxic as Tide or the other brands listed above, but they can still contain potentially harmful ingredients. With these brands, it's good practice to consider the products on a case-by-case basis; some of the products may be safe while you may want to steer clear from others.
The good thing about these brands is that they're often widely available at stores like Target and Walmart, so they may be a good option if you're in a pickle. Here are the Seventh Generation products that are generally safe to use (note that the baby detergents are not on this list!):
Seventh Generation 3-In-1 Oxy Booster Packs, Free & Clear
Seventh Generation Chlorine-Free Bleach, Free & Clear
Seventh Generation Ultra Power Plus Laundry Detergent Packs
Seventh Generation Zero Plastic Laundry Detergent Tablets, Fragrance Free
Seventh Generation Laundry Detergent Packs
Seventh Generation Natural Laundry Detergent Powder, Free & Clear
Is Mrs. Meyer's Laundry Detergent Safe?
Like Seventh Generation, Mrs. Meyer's products might be slightly better than more conventional ones, but they still contain many ingredients that are not considered safe, including undisclosed fragrance. If possible, stay away from Mrs. Meyer's laundry detergent (including the one for babies).
Is Method Laundry Detergent Safe?
Method's Free + Clear Laundry Detergent Packs are safe to use, but their other laundry products unfortunately don't make the "Best" cut.
Which Laundry Detergents Are Toxic?
These brands use many of the ingredients listed above. Many of them have products targeted for babies and children.
Ajax
All
Arm & Hammer (with the exception of regular baking soda and their Super Washing Soda Detergent Booster & Household Cleaner)
Cheer
Clorox
Downy
Dreft
Dynamo
Era
Fab
Gain
Kirkland
LA's
OxyClean
Persil
Resolve
Shout
Suavitel
Sun
The Laundress
Tide
Up & Up (Target)
Great Value (Walmart)
Xtra
What Are the Ingredients in Tide?
So many people use Tide; it's one of the most popular laundry detergent brands out there. But is Tide safe? There are over 100 different Tide products on the market, but none of the formulations contain good news when it comes to toxins. Let's look at the ingredient list of the Original Liquid Tide. The ingredients in bold have been shown to have cause for concern in one way or another.
SODIUM BORATE, ETHANOLAMINE, POLYETHYLENEIMINE ETHOXYLATES, LAURETH-9, FRAGRANCE, DISODIUM DIAMINOSTILBENE DISULFONATE, PEG-75, DIMETHICONE, ALCOHOL ETHOXYSULFATES, ALCOHOL SULPHATE, DIQUATERNIUM ETHOXYSULFATES, DIETHYLENE GLYCOL, ALKYL DIMETHYL AMINE OXIDES, PENTETIC ACID, LIQUITINT BLUE, ALCOHOL ETHOXYLATES (C10-C16) SODIUM SALT, LINEAR ALKYLBENZYL SULFONATES (C10-16), MONOETHANOLAMINE CITRATE, ALKYL BENZENE SULFONATE, ETHANOLAMINE SALT, AMMONIUM ALKYL SULFATE (C10-C16), PENTASODIUM DTPA, PROTEASE, AMYLASE, SODIUM FORMATE, FORMIC ACID, CALCIUM SALT, BETA-MANNANASE, WATER, PROPYLENE GLYCOL, CITRIC ACID, SODIUM HYDROXIDE, ETHANOL, SODIUM FATTY ACIDS
Is Tide Free & Gentle safe? Tide has several different versions of its Free & Gentle formulations, and unfortunately, the ingredient lists are only slightly cleaner than standard Tide and cannot be considered non-toxic. It's best to skip the Tide altogether.
Should You DIY Laundry Detergent?
Because of the fact that there are so many non-toxic, and affordable options, you don't necessarily need to make your own. But if you enjoy DYI-ing, there are some great, safe recipes for laundry detergent, like this one on DIY Natural!
What About Dryer Sheets?
Just like with laundry detergent, dryer sheets can contain a lot of hidden ingredients that can potentially cause harm. Because they're so concentrated, they can actually be even worse than the detergent itself. Check out this article for more information about non-toxic alternatives to dryer sheets.
Conclusion
With so many great brands and safe options, there is no reason you can't have clean and fresh smelling laundry that won't pose harm to you or your family with unnecessary toxic chemicals.
---
PIN IT:
Image Credits: Karolina Grabowska, Olya Kobruseva, all product photos belong to respective brands