Last Updated on January 20, 2023 by The Filtery
For workout enthusiasts, dumbbells and hand weights are an everyday part of life. Whether you're working out at the gym or in front of the TV at home, hand weights are a great way to build muscle and improve overall health. The materials these weights are made of seem to be just as everyday as your regular workout, rendered in ordinary materials like cast iron, rubber, plastic, and neoprene.
But there's something that your everyday weights may be hiding—and that's chemicals that could be potentially toxic to your system… the same one you're aiming to keep healthy. Read on to find out if dumbbells and hand weights are toxic and discover safe non-toxic dumbbell alternatives as well.
What!? Now Workout Weights Can Be Toxic?
You've likely heard about tons of products out there that contain toxins, from plug-in air fresheners to laundry detergent to personal care products. If you've already done your due diligence and switched to organic products in those respects, that's a win! But what many people don't know is that items you'd never think of as toxic, like hand weights, may need to be swapped from your life as well.
This post may contain affiliate links, which means we may earn a small commission if you choose to make a purchase. We only make recommendations that are genuine and meet our ingredient/material safety standards.
Are Rubber Dumbbells Toxic?
Natural rubber is derived from rubber-producing plants. At its core, natural rubber is a safe material. That's why it's safe for doctors to use rubber latex gloves day in and day out with their patients.
But then there's synthetic rubber. Generally, to make this form of rubber more pliable, companies add something called phthalates, which make plastics softer and more flexible. That same rubber encases the weights you may use every day.
Phthalates are a huge problem. Not only are they very prevalent in today's society, but they can cause everything from asthma and hormone disruption to infertility and cancer.
"Generally Regarded As Safe" (GRAS) Materials For Dumbbells
Instead of using weights that have been made with synthetic rubber, plastic, vinyl, or PVC, consider using weights made up of safer materials, which can include chrome, steel, cast iron, and even wood and marble.
Why Is There a Prop 65 Warning on My Dumbbells?
Proposition 65 is a law in California that requires businesses and manufacturers to disclose any chemicals that can potentially cause "cancer, birth defects, and reproductive harm," as it states on the California Office of Environmental Health Hazard Assessment (OEHHA) website.
Since Prop 65 became law, people have repeatedly raised eyebrows when they see warning labels on hand weights they've purchased. Since they can contain phthalates and other concerning chemicals, some weights have warranted the warning.
What Are the Chemicals Listed in Prop 65?
Currently, there are 900 chemicals that warrant a Prop 65 label. You can view and download the entire list on the OEHHA website. On it, you'll find formaldehyde, carbon monoxide, and gasoline engine exhaust among many others. And yes, there are many different kinds of phthalates on that list as well.
How Can California's Proposition 65 Help Me Find Non-Toxic Dumbbells?
When it comes to certain things, like organic food or mattresses, there are lots of third-party certifications that can give shoppers peace of mind that what they're buying is safe. When it comes to buy non-toxic dumbbells and hand weights, however, those certifications aren't really available.
But, Prop 65 is a resource that can help. Since Prop 65 offers a degree of transparency when it comes to how household items are made, you can choose to purchase dumbbells and hand weights that don't come with the warning. The label can be helpful to you as a thoughtful consumer shopping for safe weights.
4 Non-Toxic Dumbbell & Hand Weight Sets for Your Arm Workouts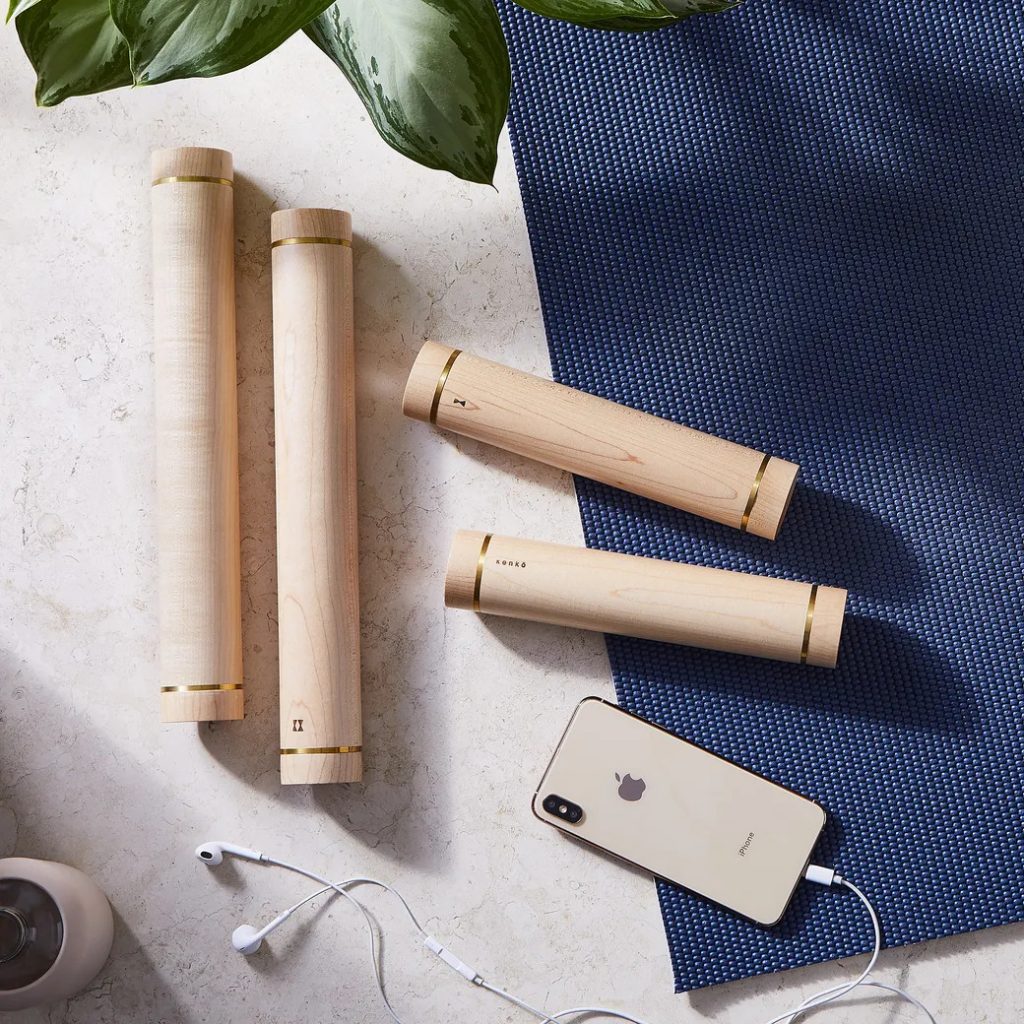 While expensive, these dumbbells rendered in natural hardwoods like American walnut and Canadian maple are quite pleasing to the eye and are made up of long-lasting materials. At 2.2 or 4.4 pounds, these weights can be kept next to the couch, acting as a décor touch and providing mini weight workouts to do during commercial breaks. Who knew dumbbells could be so pretty?!
They carry matching resistance bands as well.
For the most stylish dumbbells around, look no further than these creations made by Etsy seller MarbleRituals. Each weighing two pounds, they'll make for conversation pieces as well.
As their Etsy page explained, these non-toxic dumbbells "are handcrafted in a small village in the north of Greece near Thessaloniki famous for its marble quarries and pay homage to ancient Greek civilization, especially to the Acropolis and Parthenon. Natural Volakas marble is a metamorphic rock that morphs from limestone under extreme heat and pressure deep within the earth. It also contains dolomite along with the limestone which gives it different colors and tones."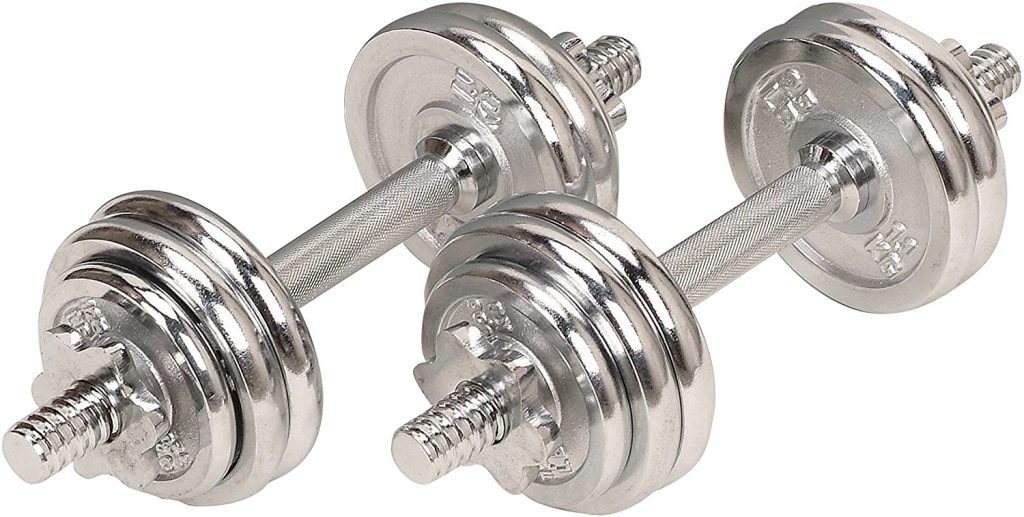 Looking for a cost-effective, practical option for non-toxic hand weights? Look no further than this chrome 33-pound dumbbell set that conveniently comes with a carrying case.
Even though these weights, ranging from 3 to 15 pounds, are coated in neoprene, they are tested and pass the Prop 65 standards. Plus, the colors are pretty irresistible and you can create your own custom weight set.
What Can I Use Instead of Dangerous Dumbbells?
Your non-toxic weight-lifting options aren't limited to just dumbbells and hand weights. You can also turn to other possibilities, like kettlebells made up of cast iron—just be sure to skip the plastic-coated ones. Or you can try Bala Bangles that you can wear on your wrists and ankles and are made of natural latex.
Then there are always the DIY methods you can do at home that are also toxin-free. Consider lifting BPA-free water bottles, soup cans, books, or bags of rice to get your workout on.
Conclusion: In today's world that's often marked by toxic materials, even dumbbells and hand weights haven't escaped chemical-laden manufacturing processes. But with a little research and information, you can discover non-toxic weights you feel confident, and comfortable, using on a daily basis.
---
About the Author
Shelby Deering is a lifestyle writer from Madison, Wisconsin. For the past 16 years, she has contributed to national print magazines and websites, including Naturally, Danny Seo, Healthline, Good Housekeeping, Parade, USA Today, and more. In her own life, she embraces non-toxic, cruelty-free beauty and cleaning products, and when she's not researching a "clean" shampoo or lotion to add to her daily regimen, you'll find her walking her corgi, Dolly, running local trails, or discovering treasures at nearby flea markets.
---
PIN IT:
Image credits: Kelly Sikkema, Anna Schvets, Mikhail Nilov, product photos belong to respective brands